Resisting Removal: Chief Buffalo (Kechewaishke)
Resisting Removal: Chief Buffalo (Kechewaishke)
Regarded as a hero among the Lake Superior Ojibwe, Chief Buffalo (Kechewaishke) of La Pointe successfully resisted numerous attempts by U.S. government officials to remove his people from their ancient homeland.  As the principal chief of the Lake Superior Ojibwe, Buffalo signed the treaties of 1825, 1826, 1837, 1842, 1847, and 1854. He also traveled to Washington DC in 1852 to fight for the rights of his people to remain living upon their homeland.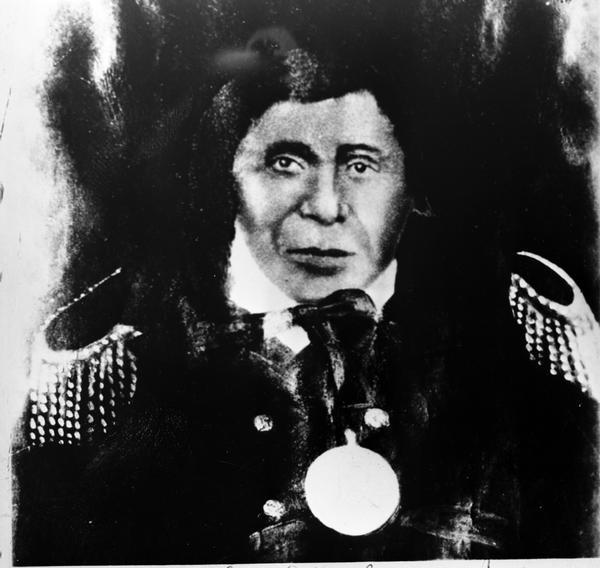 Buffalo was born at La Pointe on Madeline Island around the year 1759, when it was still a part of New France.  In his youth, Buffalo was known as a skilled hunter and athlete. Eventually, he became a leader among his people because of his speaking and oratorical skills which were highly valued in his culture.  A member of the Loon Clan, Buffalo promoted peace between the Ojibwe and Dakota and he acted diplomatically in treaty negotiations.
After the Sandy Lake Tragedy in 1850 which resulted in the death of approximately four hundred Ojibwe because of removal efforts, Buffalo fought to end such efforts and obtain a permanent home for his people.  Despite numerous petitions sent to Territorial Governor Alexander Ramsey of Minnesota, removal efforts continued and his people went without annuity payments for several years. Buffalo, who was more than ninety years old at the time, determined that he must travel to Washington to see his "Great Grandfather" if removal efforts were to be terminated.  In a memorial to the President, Buffalo outlined the grievances of his people and closed the impassioned plea by writing:
"It is generally the case with white men, when they have selected a spot to dwell at, that they begin to consider and look around them, to see what obstacles are in their way, they begin to cut away the underbrush and bad trees, in order to make the land level and smooth so that nothing will come in contact to hurt their feet, they see good trees and they are allowed to stand and live, and they are not cut down.  We beseech you to do towards us as you do, allowing the good trees to stand and live in your domain. And furthermore we pray, that in accordance to that, we so fully understand that our annuities should be paid to us at Lapointe and that they may be continued there, until the expiration of the term as set forth in the Treaty of 1842″ (White, The Regional Context, 247). 
According to the memoir of Benjamin Armstrong, a white interpreter who traveled with the delegation to Washington, Buffalo met with President Millard Fillmore who promised to end removal efforts and negotiate a new treaty that would provide permanent homes for the Lake Superior Ojibwe.  A year later, the Ojibwe were paid their annuities at La Pointe and one year after that a new treaty was made that provided the Lake Superior Ojibwe reservations within their homelands. Buffalo died on September 7, 1855, at La Pointe. Today his legacy lives on among his ancestors who live at Red Cliff and Bad River, the permanent reservations he fought for.  
Read more about Chief Buffalo's 1852 trip to Washington. 
Sources:
Bruce White, "The Regional Context of the Removal Order of 1850," in Fish in the Lakes, Wild Rice, and Game in Abundance: Testimony on Behalf of Mille Lacs Ojibwe Hunting and Fishing Rights," Compiled by James M. McClurken, (East Lansing: Michigan State University Press, 2000), 141–328.  
"Kechewaishke," Wikipedia, Accessed May 30, 2018, https://en.wikipedia.org/wiki/Kechewaishke.