The Sand Creek Massacre
The Sand Creek Massacre
On November 29, 1864, approximately 700 U.S. army soldiers commanded by Colonel John Chivington, attacked some 1,000 Cheyenne and Arapaho people camped near Big Sandy Creek in eastern Colorado. It is estimated that between 150 and 500 Cheyenne and Arapaho were killed and mutilated, two-thirds of whom were women and children. The tragic event, which was initially celebrated by U.S. soldiers and civilians, is called the Sand Creek Massacre and is commemorated as a National Historical Site operated by the National Park Service.
The 1851 Treaty of Fort Laramie recognized a large swath of land south of the North Platte River and north of the Arkansas River, in eastern Colorado as territory of the Cheyenne and Arapaho people. But, in 1858 after gold was discovered in Pike's Peak Country, thousands of gold hungry miners traveled through Cheyenne and Arapaho Territory along the Smoky Hill Trail. The Pike's Peak Gold Rush brought with it an estimated 100,000 gold seekers who competed with Native populations for resources.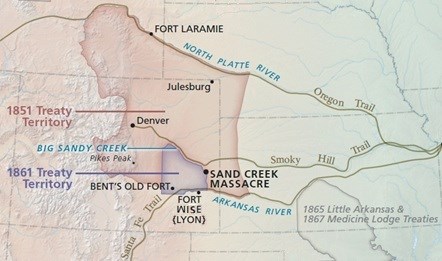 This led to the Treaty of Fort Wise, signed February 18, 1861, which redefined the Cheyenne and Arapaho Territory to 1/13 it's original size. While the treaty was signed by several Cheyenne and Arapaho leaders, the majority of tribal authorities were angered by the agreement and disavowed the treaty. Those who disavowed the treaty continued to live and hunt throughout the original territory, and became increasingly belligerent to the constant stream of white migrants.
At the same time, the American Civil War had broken out between Union and Confederate forces throughout the country. In the West, Confederate forces were defeated at Glorieta Pass in northern New Mexico Territory in March, 1862. Union forces were led by Major John M. Chivington, an American Methodist pastor who volunteered to fight when the Civil War began. After the Confederate defeat in New Mexico, Colorado established a home guard to protect settlers and trade routes throughout the territory. Chivington was placed in command of the Third Colorado Cavalry.
During the period that followed, American Civil War soldiers began attacking and destroying camps of peaceful Cheyenne. Then, on May 16, 1864, Cheyenne leaders Lean Bear and Star were killed by U.S. soldiers who approached them during a buffalo hunt. The soldiers were operating under the orders of Chivington to "kill Cheyennes whenever and wherever found." The killings sparked attacks of retaliation by some of the Cheyenne in Kansas causing tensions to rise between white and Native populations.
In order to de-escalate the situation, Colorado Territorial Governor John Evans invited the Cheyenne and Arapaho to Fort Lyon where they would be given provisions and protection. Black Kettle of the Cheyenne and Chief Niwot of the Arapaho brought their people to Fort Lyon in compliance with the peace parley and remained until they were asked to relocate to Big Sandy Creek about 40 miles to the northeast. After establishing their camp at Big Sandy Creek, Black Kettle flew an American and white flag above his lodge to show themselves as peaceful.
Nevertheless, Major Chivington and approximately 700 soldiers of the Third Colorado Cavalry, the First Colorado Cavalry, and the First Regiment New Mexico Volunteer Infantry, departed Fort Lyon on November 28 en route to the Cheyenne and Arapaho camp. Meanwhile, a large majority of the fighting age men in camp at Big Sandy Creek had left for a buffalo hunt, leaving mostly aged men, women, and children in the camp. Then, on the morning of November 29, 1864, Chivington ordered an attack on the defenseless and peaceful camp even while several of his men were within the camp at the time trading. For their part, Captain Silas Soule and Lieutenant Joseph Cramer, refused to attack the camp and commanded their men to hold their fire. Most of the U.S. soldiers, however, obeyed Chivington's order.
According to Captain Soule, "The massacre lasted six or eight hours" and "not more than two hundred, about 140 women and children" were killed. Soule also reported that women died while begging for their lives or, when they realized they couldn't escape, cut the throats of their children before killing themselves. In a report to Major Edward Wynkoop, Soule wrote, "it was hard to see little children on their knees have their brains beat out by men professing to be civilized." He also reported that "they were horribly mutilated" and that body parts were cut out as trophies.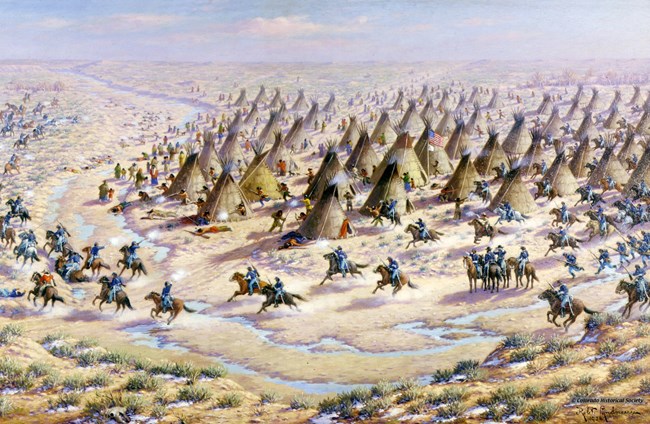 The U.S. army lost 24 killed and 52 wounded. Some of the Cheyenne and Arapaho were able to find cover on the bank of the creek and return fire, however, it is likely that many of the U.S. deaths were caused by "friendly" fire. As noted by Captain Soule, "there was no organization among our troops, they were a perfect mob."
Chivington reported that five or six hundred Indians had been killed in a battle against a brave and numerous foe. U.S. soldiers in Denver were greeted with praise and acclaim while displaying the scalps they had cut. However, a few weeks after the attack, the truth had started to trickle out. A Joint Committee on the Conduct of War investigated the attack and ruled that Colonel Chivington "surprised and murdered, in cold blood, the unsuspecting men, women, and children on Sand creek, who had every reason to believe they were under the protection of the United States authorities." Chivington could not be court-martialed because he had resigned from the military. The ruling effectively ended his political career. Captain Silas Soule, who testified against Chivington in the investigation, was shot dead in Denver a few weeks after his testimony. It is believed the assailants were associates of Chivington.
Because of its remote location and its timing within the larger context of the American Civil War, the events at Sand Creek, some argue, have been overlooked by history. There is no doubt, however, that it was a horrific and unwarranted attack on a peaceful and relatively defenseless group of innocent people. And while the truth that hindsight and history provide brings about discussion and healing, it cannot wipe away the shame and trauma now cemented into society. Unfortunately, The Sand Creek Massacre was just one of the countless injustices done to the Native populations of this country.
Watch this blog post on YouTube
Sources:
"Sand Creek Massacre," Wikipedia, Accessed June 10, 2020, https://en.wikipedia.org/wiki/Sand_Creek_massacre

Tony Horwitz, "The Horrific Sand Creek Massacre Will Be Forgotten No More," Smithsonian Magazine, December 2014, https://www.smithsonianmag.com/history/horrific-sand-creek-massacre-will-be-forgotten-no-more-180953403/

"Silas S. Soule: Two Letters Regarding the Sand Creek Massacre," Author Kevin I. Cahill, Accessed June 10, 2020, https://www.kclonewolf.com/History/SandCreek/sc-documents/sc-soule-letters.html

"The Sand Creek Massacre – Captain Silas S. Soule letter to Major Edward Wynkoop regarding the massacre," Author Kevin I. Cahill, Accessed June 10, 2020, https://www.kclonewolf.com/History/SandCreek/sc-documents/sc-soule-to-wynkoop-12-14-64.html

"Pike's Peak Gold Rush," Wikipedia, Accessed June 10, 2020, https://en.wikipedia.org/wiki/Pike%27s_Peak_Gold_Rush

"Lean Bear," Wikipedia, Accessed June 10, 2020, https://en.wikipedia.org/wiki/Lean_Bear
Colin Mustful is a Minnesota author and historian with a unique story-telling style that tells History Through Fiction. His work focuses on Minnesota and surrounding regions during the complex transitional period as land was transferred from Native peoples to American hands. Mustful strives to create compelling stories about the real-life people and events of a tumultuous and forgotten past.