St. James and the U.S. – Dakota War
St. James and the U.S. – Dakota War
During the U.S. – Dakota War of 1862, the town of St. James had yet to be founded and the Watonwan County was not heavily settled.  Until 1860, Watonwan County was still a part of Brown County.  Those living in the area were a part of the Rosendale settlement.  The nearest town was Madelia while a trip to Mankato at the time took five to seven days round-trip.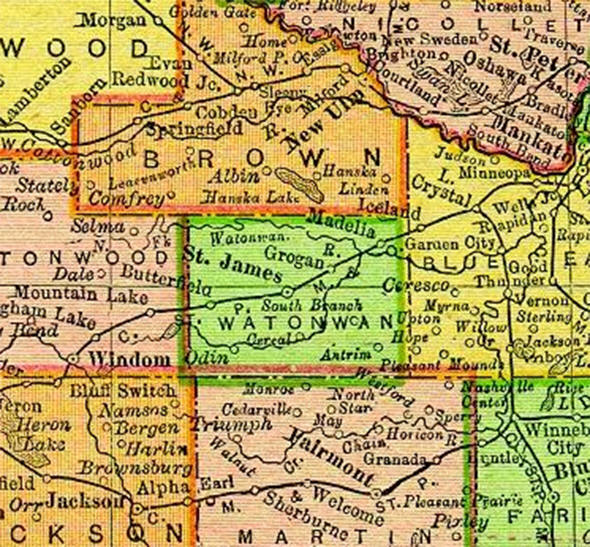 When news of the war reached Watonwan County in August of 1862, the settlers turned their minds to fight or flight.  Fort Cox was quickly erected in Madelia to protect the settlers.  Those that remained upon their settlements were threatened as the Dakota attacked several locations throughout Watonwan County.  One such attack took place at the home of Nils Torsen.  Here was gathered Jacob Thorvaldsen, George Knudson, and Maria Torsen Overig.  Knudson and Overig managed to hide in a cornfield and then fled by cover of darkness to Madelia.  Meanwhile, Thorvaldsen ran for the cover of the woods and followed the river to Madelia.  A settler named Ole Jorgensen, who had helped provide safety for Knudson and Overig, was later shot by Dakota men as he went out seeking horses.  Jorgensen managed to conceal himself in slough where he was later picked up safely by a  party of U.S. soldiers.
After the war had ended, more soldiers were sent and more stockades were built at Madelia, Lake Hanska, North Branch, and Long Lake.  With the stockades built and protection established, the settlers decided it was safe to return to their homes.  However, in April of 1863 a small group of Dakota launched a raid at Long Lake which resulted in the death of  five men while wounding several others.  Ole Palme and Gabriel Ellingson were attacked and killed near Kansas Lake while returning from fishing and trapping.  At Long Lake, Guldorand Palmeson was killed.  Then, at the home of Salve Torgenson, the Dakota killed a soldier named Monson, who had been hired for protection, while severely wounding Mrs. Torgenson.  After this tragedy the settlement was wholly abandoned until 1866, when peace and safety were completely restored.
As for the city of St. James, it was not founded until eight years after the war in 1870.  This was thanks wholly to the expansion of the railroad.  In 1867, the directors of the Sioux City and St. Paul railroads decided to complete a line between the two cities which was to be operated in two divisions.  The division point was set as the center of Watonwan County.  That central point became known as St. James and the railroad was completed there in June, 1870.  In July, 1870, a town had been laid out and on July 18, the first building had been constructed.  Then, "buildings went up as if by magic, and in six weeks time, the town was built."
Sources:
"History:  Naming and Settlement," City of St. James, Minnesota, (Accessed May 18, 2017), http://www.ci.stjames.mn.us/index.aspx?nid=155.
"Study Resource Guide US – Dakota War of 1862 Watonwan County," US Dakota War 1862 Minnesota County by County, (Accessed May 18, 2017), http://www.usdakotawarmncountybycounty.com/county/watonwan-county-us-dakota-war.pdf.
John A. Brown, History of Cottonwood and Watonwan Counties, Vol. 1, (Indianapolis, Indiana:  B.F. Bowen & Company, Inc., 1916).