Resisting Removal: John S. Watrous
Resisting Removal: John S. Watrous
Appointed April 19, 1850, John S. Watrous was the Indian sub-agent at La Pointe during the Sandy Lake Tragedy and the removal efforts that followed.  Prior to his appointment as sub-agent, Watrous served in the Wisconsin Territorial Legislature and later became a trader among the Lake Superior Ojibwe.  In 1848, he was granted license to trade with the Ojibwe at La Pointe, but because of excessive competition that year, Watrous was unable to collect on credits given and was forced to sell his entire business.
Following his failure in the trade, Watrous lobbied to have the sub-agent at La Pointe, John Livermore, removed.  With the help of his political associates, Watrous was successful and was himself appointed sub-agent.
Following the orders of Minnesota Territorial Governor Alexander Ramsey, John Watrous orchestrated the attempted removal of the Lake Superior Ojibwe to Sandy Lake in Minnesota Territory.  The Ojibwe were opposed to removal from their homelands, but were forced to travel to Sandy Lake in October if they were to receive their much needed annuities. According to their plan, Watrous and Ramsey sought to convey the Ojibwe to Sandy Lake, and hold them there so long that once they received payment, winter would have set in and the Ojibwe would not be able to return homes.    
Watrous promised payment on October 25, but, while the Ojibwe assembled and waited at Sandy Lake, he failed to arrive until November 24.  Upon arrival, Watrous found that scores of Ojibwe had died from spoiled provisions and that more were dying each day. Making matters worse, annuity money had not been appropriated by Congress and so Watrous could not follow through with the annuity payment.  After arranging for traders to supply goods for the sick and starving at Sandy Lake, the Ojibwe returned home in early December. By that time the waterways had frozen over and the Ojibwe had to throw away their canoes and travel home on foot. Approximately 230 Ojibwe died while trying to return home.
Despite the tragedy at Sandy Lake in 1850 that resulted in the death of 400 Ojibwe, Watrous tried to institute the same plan for removal the following year.  Writing to Governor Ramsey in September, 1851, he stated that it was his "intention to delay the money payment of the present year to the [Ojibwe] of Lake Superior, until after navigation closes, which is done to throw every obstacle in the way of their returning to their old homes" (White, The Regional Context, 215). 
In 1852, Watrous again refused to make payment at La Pointe, despite numerous petitions to end removal efforts.  Furthermore, Watrous ignored orders from the Commissioner of Indian Affairs Luke Lea to stop removal efforts, and he tried, unsuccessfully, to prevent a La Pointe Ojibwe delegation from traveling to Washington DC in 1852.  Numerous charges were made against Watrous for his conduct as sub-agent, including repeatedly breaking promises, daily deception, and attempted bribery. But, it was determined by Alexander Ramsey, who had the final say in the investigation against Watrous, that the charges should not be sustained.  
Watrous was eventually removed as sub-agent of La Pointe in 1853 after a new administration took office.  After his removal, annuity payments to the Lake Superior Ojibwe resumed at La Pointe to the great joy and satisfaction of those residing there.  Also, in 1854, a new treaty was made promising that payment would always take place at La Pointe and providing the Lake Superior Ojibwe permanent reservation homes within their homeland.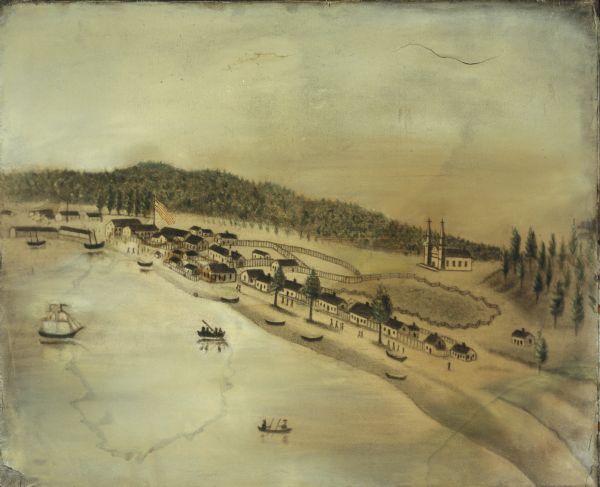 During his time as Indian sub-agent at La Pointe, John Watrous sought the forced and illegal removal of the Lake Superior Ojibwe to Minnesota Territory in order to support his own business and political interests.  His efforts resulted in the death and suffering of countless Ojibwe people, for which he received no disciplinary action. For his role in the failed removal efforts, Watrous has been called the most conspicuous villain of the Sandy Lake Tragedy (Filipczak, "Memoirs of Doodooshaaboo").  
Read John Watrous' Annual Report to the Commissioner of Indian Affairs in the year 1851. 
Sources:
Bruce White, "The Regional Context of the Removal Order of 1850," in Fish in the Lakes, Wild Rice, and Game in Abundance: Testimony on Behalf of Mille Lacs Ojibwe Hunting and Fishing Rights," Compiled by James M. McClurken, (East Lansing: Michigan State University Press, 2000), 141–328.  
 Leo Filipczak, "Memoirs of Doodooshaaboo: Joseph Austrian's Time at La Pointe 1851–52 (Pt. 1)" in Chequamegon History (blog), Published April 12, 2014, https://chequamegonhistory.wordpress.com/2014/04/12/memoirs-of-doodooshaaboo-joseph-austrians-time-at-la-pointe-1850-51-pt-1/.