Q&A: Who was Sarah Wakefield?
Q&A: Who was Sarah Wakefield?
During the first days of the U.S. – Dakota War, the Dakota took about 250 captives.  Sarah Wakefield and her children, a baby daughter named Lucy and a four-year old son named James, were among those captives.  Sarah was from Rhode Island and came to Minnesota in 1854.  Her husband, John L. Wakefield, was the physician at the Upper Sioux Agency at the time war broke out.  Upon fleeing toward Fort Ridgely, Sarah and her children were captured and taken to Little Crow's camp.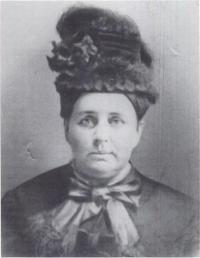 During the war, Sarah was taken in and protected by a Dakota named Chaska.  She was considered a part of the family.  As Sarah herself stated, "the Indians were all very kind to me; they brought me books and papers to read, and I would make them shirts, so as to return their favors . . . I shall say there are many, very many good, kind hearted Indians."  Upon the release of the captives after the Battle of Wood Lake, Sarah actually found it quite emotional to have to say good bye.  Then, when testifying before the Military Commission, Sarah spoke positively on behalf of Chaska and the way she was treated throughout the six week period of captivity.
Despite the praises of Mrs. Wakefield, Chaska was convicted and sentenced to death by the military commission.  Chaska's sentence was later commuted, but a mistake before the hangings, led to Chaska's execution.  The missionary, Stephen Riggs, regretted and apologized for this mistake, but Sarah was deeply saddened and disputed the error writing, "I will never believe that all in Mankato had forgotten what Chaska was condemned for, and I am sure, in my own mind, it was done intentionally."  Sarah Wakefield left a personal narrative of her captivity titled, Six Weeks in the Sioux Tepees:  A Narrative of Indian Captivity.  
Read the letter by Rev. Riggs to Sarah Wakefield – page 308
Source:
Sarah F. Wakefield, Six Weeks in the Sioux Tepees:  A Narrative of Indian Captivity, Edited by June Namias, (Norman, Oklahoma:  University of Oklahoma Press, 1864, 1997).
Corey Hickner-Johnson, "A Dakota War Story You Should Know," Minneapolis Star Tribune, August 15, 2012, http://www.startribune.com/a-dakota-war-story-you-should-know/166333246/.