Q&A: Who was Henry Hastings Sibley?
Q&A: Who was Henry Hastings Sibley?
Henry Hastings Sibley was born in Detroit, Michigan, in 1809.  He read and studied law before becoming a clerk for the American Fur Company at Sault Ste. Marie in 1828.  By 1834, Sibley had become a partner with the American Fur Company and established his post at Mendota, Minnesota.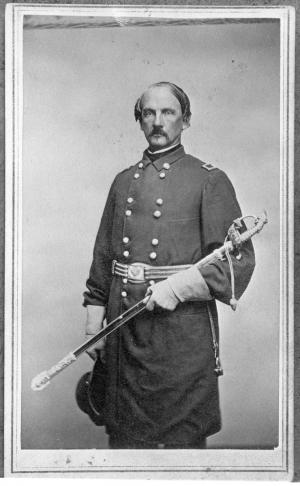 Sibley quickly became the most prominent trader in the region having intermingled with the Dakota people.  He was known as a friend to the Dakota who called him, "the long trader" because of his height.  As the fur trade dwindled, Sibley became a successful businessman investing in lumbering, river transportation, railroads, and land speculation.  Sibley also entered into politics, becoming a member of the U.S. House of Representatives in 1848 as the member from Wisconsin's At-Large District.  As a U.S. Representative, Sibley played a major role in establishing Minnesota as a territory in 1849.  Sibley also played a major role in the 1851 treaties of Traverse des Sioux and Mendota which eventually led to the establishment of Minnesota as state.  In 1858, Henry Sibley became the first Governor of Minnesota.
During the U.S. – Dakota War of 1862, Sibley was called upon to quell the violent outbreak acting as Colonel of Minnesota's volunteer militia.  He led troops from Fort Snelling to Fort Ridgely and forced the retreat of the warring Dakota.  After a delay in training the soldiers and obtaining supplies, Sibley then forced the surrender of the Dakota Indians after the battle of Wood Lake and he negotiated the release of the captives at Camp Release.  Sibley then convened the military commission which tried nearly 400 Dakota Indians and sentenced 303 to death by hanging.  For his role in the U.S. – Dakota War, Sibley was promoted to General and in 1863 he led punitive expeditions against the Dakota who had avoided capture following the war.  Sibley died in St. Paul in 1891.
Read the letter by Alexander Ramsey appointing Henry Sibley as Colonel of the Indian Expedition – page 254
Source:
Rhoda R. Gilman, Henry Hastings Sibley:  Divided Heart, (St. Paul:  Minnesota Historical Society Press, 2004).
Nathaniel West, The Ancestry Life and Times of Hon. Henry Hastings Sibley, (St. Paul:  Pioneer Press Publishing Company, 1889).