Q&A: Who was George E.H. Day?
Q&A: Who was George E.H. Day?
On January 1, 1862, Special Agent George E.H. Day wrote a letter to President Abraham Lincoln warning the President of an impending Indian outbreak.  Day declared that the Indians had "been defrauded of more than one hundred thousand dollars" and called the entire Indian System "defective."  He persisted by warning the President that if such wrongs are continued, "the just vengeance of heaven . . . [will] be poured out and visited upon this nation for its abuses and cruelty to the Indian."  Eight months later Agent Day's warning was realized.
Day was appointed as a special agent on August 10, 1861, and he was given a one hundred day contract assigned specifically to investigate the charges against a carpenter who had allegedly cut timber belonging to the Rabbit Lake band of Ojibwe.  He arrived on August 30, and it took him just four days to uncover his first crime of fraud.  In a letter to the Commissioner of Indian Affairs, William P. Dole, Day revealed that a physician assigned to Leech Lake and paid a handsome salary of $4,000 never once went on to the reservation.  Day further noted that in the previous year one hundred of the Pillager and Winnebogosh Ojibwe at Leech Lake had died of illness.
Day continued to investigate what he called, "voluminous and outrageous frauds upon the Indians."  He reported his findings to William P. Dole, the Commissioner of Indian Affairs.  However, the Commissioner ignored Day's reports, eventually admonishing Day for going beyond his authority.  Furthermore, Dole called Day's findings "imaginary" and he reminded Day that his contract would end soon and not be renewed.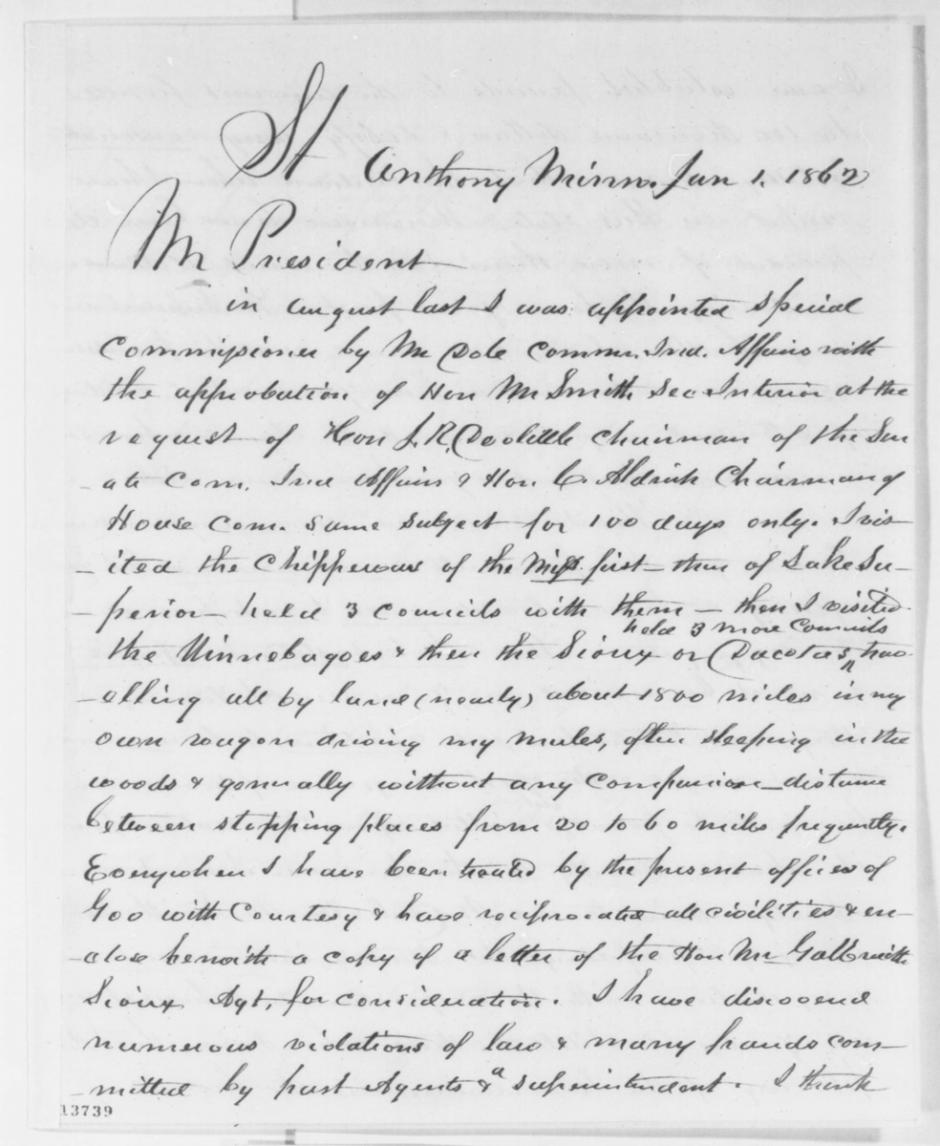 Day could see that despite his efforts he would be given no support from the Commissioner of Indian Affairs.  That is why, on January 1, 1862, he went directly to the President.  Day demonstrated his conviction by stating in his letter to President Lincoln, "If I were not poor and had not a family to support I would go to Washington at my own cost out of love of country and the poor Indian."  Though Day could not afford it himself, he requested $135 at the Government's expense to travel to Washington.  Day claimed that he could save them "nearly as many thousands."  Day's request, however, was not met and his letter received no response.  Nothing was done about the dozens of charges reported by George E.H. Day and in August, 1862, war was the outcome.
Read Day's letter to President Lincoln – page 42-44
Source:
Colin Mustful, A Welcome Tragedy:  Factors that Led to the U.S. – Dakota Conflict of 1862, (Colin Mustful, 2014).