Q&A: Who was Chief Wabasha?
Q&A: Who was Chief Wabasha?
Wabasha, known also as Tahtapesaah (The Upsetting Wind), was the third hereditary chief of his band of Mdewakanton Dakota.  Wabasha assumed his role as chief in 1836 after the death of his father.  He signed the treaties of 1837, 1851, and 1858, though he was opposed to the Treaty of Mendota and he reluctantly participated as a delegate to Washington in 1858.  Wabasha encouraged his people to become Christians and farmers, and in 1859 he cut his hair.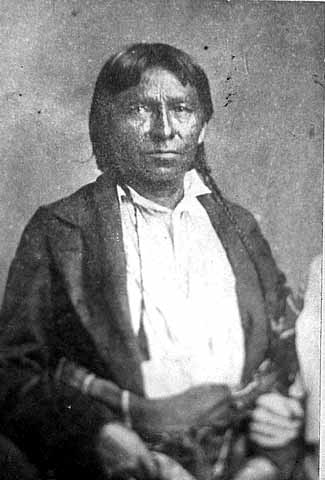 Wabasha was opposed to the U.S. – Dakota War of 1862, although he was obliged to fight out of fear that the Dakota warriors would kill him otherwise.  However, he protected the whites throughout the war and he organized the peace party that eventually protected and released the captives.  Before joining a large war party, captive Janette DeCamp asked Wabasha if he was friendly to the whites.  Wabasha answered that he would not kill anyone – he "would shoot up."
Following his trip to Washington in 1858, Wabasha wrote, "I went home, and lived upon the land, and built houses there.  The Great Father told me, before leaving, that he wished us to be well off, but that the whites would endeavor to get this land from us, and that the traders were like rats; that they would use all their endeavors to steal our substance, and that if we were wise we would never sign a paper for anyone. . . . I remember the words of our Great Father and I knew they were true.  I was, consequently, always afraid of the traders."
Read more about Wabasha, his father, and his grandfather – page 503-512
Source:
Gary Clayton Anderson and Allan R. Woolworth, eds., Through Dakota Eyes:  Narrative Accounts of the Minnesota Indian War of 1862, (St. Paul:  Minnesota Historical Society Press, 1988)
Jannette E. DeCamp Sweet, "Mrs. J.E. DeCamp Sweet's Narrative of her Captivity in the Sioux Outbreak of 1862," Collections of the Minnesota Historical Society, Vol. 6, (St. Paul:  The Pioneer Press Company, 1894), 354-380.