Q&A: Who was Antoine Joseph Campbell?
Q&A: Who was Antoine Joseph Campbell?
Throughout the Minnesota frontier were many people of mixed cultural heritage.  These people were often called mixed-bloods or mixed-breeds and they played an important role in the history of events preceding and during the U.S. – Dakota War.  One such man was Antoine Joseph Campbell, a mixed-race interpreter for the U.S. government.
Antoine's grandfather, Archibald John Campbell, was a Scottish-born, French-speaking trader who settled at Prairie du Chien.  He married a Dakota woman named Ninse, thereby forming the necessary kinship ties that were essential for trade between the Europeans and the Natives.  Antoine's father, Scott, moved to St. Paul in 1819, and became the interpreter for the Dakota agent Lawrence Taliaferro.  He served capably in that role for thirty years.  Antoine's mother, Margaret Menagre, was also of mixed-race, being the daughter of a Menominee woman and a French-Ojibwe trader named Louis Menagre.  Margaret was a trusted companion and adviser to the Dakota chief, Little Crow.
Born at Mendota in 1825, Antoine grew up among the whites and Dakotas that lived in and around Fort Snelling.  He could speak many languages including English, French, Dakota, Menominee, and Ojibwe.  After his father died, Antoine took over the role as government interpreter.  Antoine served in that role during the 1851 treaties of Traverse des Sioux and Mendota.  In 1857 he acted as an interpreter and guide during the expedition to capture and punish the instigators of the Spirit Lake Massacre.  He also traveled as a member of the Dakota delegation to Washington in 1858.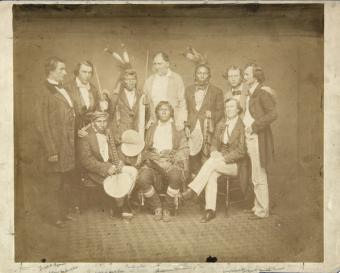 At the time of the U.S. – Dakota War, Antoine and his wife Mary Ann Dalton were living at the Lower Sioux Agency.  Antoine was protected by relatives during the war and was a member of Little Crow's camp.  He was appointed to drive Little Crow in a buggy to battles and also acted as a secretary for the correspondence between Little Crow and Colonel Sibley.  As the war came to a close, Antoine convinced Little Crow to give up forty-six captives, which he then surrendered to Colonel Sibley at Camp Release.  Following the war, Antoine became a scout for Sibley during his 1863 expeditions against the Dakota.  He died near Montevideo in 1913.
Read more about the Dakota led expedition to find and capture Inkpaduta – page 99-101
Source:
Gary Clayton Anderson and Allan R. Woolworth, eds., Through Dakota Eyes:  Narrative Accounts of the Minnesota Indian War of 1862, (St. Paul:  Minnesota Historical Society Press, 1988)
Colin Mustful, Grace at Spirit Lake, (Colin Mustful, 2014).