Q&A: Who was Alexander Ramsey?
Q&A: Who was Alexander Ramsey?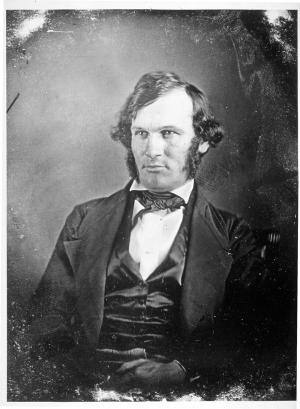 Alexander Ramsey was born in Hummelstown, Pennsylvania, on September 8, 1815.  He was orphaned at the age of 10, but went on to study law at Lafayette College in Easton, Pennsylvania.  In 1843, at just the age of 27, he was elected as a member to the United States House of Representatives where he became well-known as evincing those qualities of sagacity and firmness.  He contributed largely to the election of Zachary Taylor to the presidency.  In return, President Taylor appointed Ramsey as the first territorial governor to Minnesota in 1849.  In this role Ramsey also served as the territory's Indian Superintendent.
In 1851, Ramsey played a significant role in negotiating the treaties of Traverse des Sioux and Mendota.  As assistant commissioner he, along with Henry Sibley and Luke Lea, urged the Dakota to sell their lands west of the Mississippi River.  Regarding the treaty, Ramsey wrote, "It is needed as an additional outlet to the overwhelming tide of migration which is both unceasing and irresistible in its westward progress."  Ramsey was accused of fraud for his conduct during the treaty negotiations, but he was later acquitted by the U.S. Senate.
Throughout his life, Ramsey was an active politician.  He served as the mayor of St. Paul, the second Governor of Minnesota, a United States Senator from Minnesota, and the Secretary of War under Rutherford B. Hayes.  During the U.S. – Dakota War, when acting as Governor, Ramsey supported the exile or extermination of the Dakota people.  In a letter to President Lincoln he urged the removal of the Dakota and argued that his constituents, "will not tolerate the presence of their neighborhood of any number or in any condition."
Ramsey died at his home in St. Paul on April 22, 1903.
Read Alexander Ramsey's and Luke Lea's report of the 1851 Treaties – page 278-284
Source:
"Alexander Ramsey," The U.S.-Dakota War of 1862, http://www.usdakotawar.org/history/alexander-ramsey
J. Fletcher Williams, A History of the City of St. Paul and the County of Ramsey, Minnesota, (St. Paul:  Minnesota Historical Society, 1876)
Michael Burlingame, Abraham Lincoln:  A Life, Vol. 2, (Baltimore:  The John Hopkins University Press, 2008).