Q&A: What was the Sioux Treaty of 1837?
Q&A: What was the Sioux Treaty of 1837?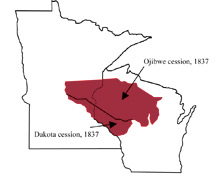 The first major land cession treaty with the Dakota people of Minnesota was signed at Washington, D.C. on September 29, 1837.  A delegation of Mdewakanton Dakota traveled to Washington with the belief that they would be negotiating their southern boundary, but instead they were convinced into selling their lands east of the Mississippi River.  The treaty coincided with the White Pine Treaty in which the Ojibwe to the north also agreed to sell their eastern lands.  The motivation for the sale was brought about for two reasons.  Firstly, Wisconsin had recently become a territory stretching as far west as the Missouri River and they sought to extend their area of settlement.  Secondly, the lumber companies sought access to the  rich timber in the triangle of land between the Mississippi and St. Croix Rivers.
According to the terms of the treaty, $300,000 was to be invested and the interest was to be paid to the Dakota annually "forever."  Also, the "relatives and friends" of the Dakota were to receive $110,000 while the traders were to receive $90,000 for debts owed.  Finally, small annual grants were to be made to pay for physicians, farmers, blacksmiths, and the materials of their respective callings.  However, when asked to sign the Treaty of Mendota in 1851, the Mdewakanton Dakota initially refused because some of the promised payments from the 1837 treaty had not yet been made.
Read the Treaty with the Sioux, 1837
Source:
"1837 Land Cession Treaties with the Ojibwe and Dakota," Why Treaties Matter, http://treatiesmatter.org/treaties/land/1837-ojibwe-dakota
William Watts Folwell, A History of Minnesota, Vol. 1, (St. Paul:  Minnesota Historical Society, 1922).