Q&A: What happened during the Dakota Trials?
Q&A: What happened during the Dakota Trials?
Following the Battle of Wood Lake, those Dakota that did not flee, surrendered under the impression that they would be given clemency.  For two weeks the Dakota remained at Camp Release being relatively free to do as they pleased.  This facade of leniency by the newly promoted General Henry Sibley, caused the population of Camp Release to grow as more and more Dakota decided it was safe to surrender.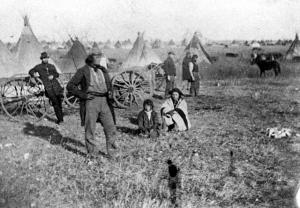 But things changed when Sibley's soldiers surrounded the camp and arrested all of the Dakota men.  The men were placed in quickly built, roughhewn prisons where they awaited trial before a five man military commission.  The trials, which began at Camp Release and were later moved to the Lower Agency, were held in one of the small, still-standing agency buildings which were packed with observers who sought retribution.  Trials moved quickly, most lasting less than five minutes, allowing as many as forty-two to be completed in just one day.  The Dakota were not given a lawyer nor were they allowed any witnesses in their defense.  Most Dakota did not understand the nature of the trials.  They often were convicted on their own admission because they did not deny their presence at battles in what they thought of as honorable warfare.
Whether guilty of punishable crimes or not, the guilt of the Dakota was predetermined in the minds of their accusers.  After just a few weeks, 303 of the Dakota were sentenced to be hanged while 20 were given undetermined prison sentences.  69 men were acquitted and only 8 were released.
For a more detailed account of the Trials and its context within the U.S. – Dakota War, read, The Infamous Dakota War Trials of 1862 by John Haymond.
Read about the trials from an eyewitness – page 251-271
Source:
Isaac V.D. Heard, History of the Sioux War and Massacres of 1862 and 1863, (New York:  Harper and Brothers, 1865).
John A. Haymond, The Infamous Dakota War Trials of 1862: Revenge, Military Law and the Judgement of History, (Jefferson, North Carolina: McFarland and Company, 2016).