Q&A: What happened at the battles of Fort Ridgely?
Q&A: What happened at the battles of Fort Ridgely?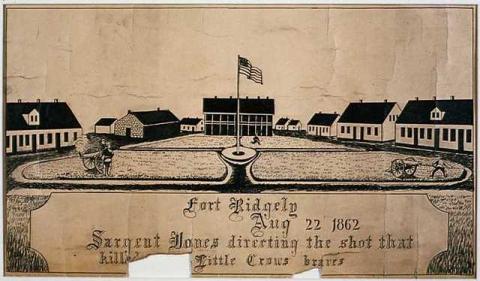 Fort Ridgely was a military garrison built in 1853 in order to protect the frontier settlements and Dakota reservations.  It was located about 13 miles southeast of the Lower Sioux Agency, making it about 50 miles distant from the Upper Sioux Agency.  The garrison was built upon a plateau above the bluffs of the Minnesota River Valley and was surrounded by ravines on three sides.  This was a defensive disadvantage because it allowed would-be attackers to hide and cover in the ravines surrounding the fort.  Also, the fort was without any stockade, breastwork, or protective walls, making it even more vulnerable.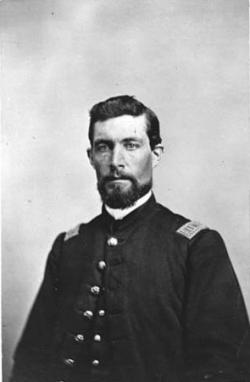 Fort Ridgely was attacked by the Dakota soldiers during the U.S. – Dakota War on August 20 and 22.  Overcoming the fort was a key part of the Dakota strategy because if it fell, it would leave the entire Minnesota River Valley defenseless.  At the time of the outbreak, Fort Ridgely was stationed by a relatively small number of Minnesota's volunteer regiments.  Having lost their Captain, John Marsh in the ambush at the Redwood Ferry, Fort Ridgely was left with only thirty-five soldiers.  Fortunately for the defenders, Lt. Sheehan and his fifty-three man regiment received word of the outbreak and immediately returned to Fort Ridgely.  In addition, a volunteer militia called the Renville Rangers came to the defense of the fort.  The barracks were flooded with refuges seeking safety.  Many of these refuges also assisted in defense of the fort by keeping watch, building barricades, covering roofs with dirt to prevent fire, and preparing ammunition.
In both of the attacks, the initial assault was fierce.  But thanks to cleverly placed artillery, the soldiers were able to repel the Dakota.  The attacks lasted for several hours and the fighting was characterized by desultory fire.  But despite their persistent efforts, the Dakota warriors were unable to break the defense of the fort and were twice forced to retreat.  In total, the fort lost six soldiers, but maintained control of Fort Ridgely potentially saving thousands of lives from would-be attacks.  A few days following the attacks, the fort was relieved by Colonel Henry Hastings Sibley and nearly 1600 soldiers from Fort Snelling.
Read the Official Report of Lieutenant Timothy J. Sheehan – page 178-193
Source:
Minnesota Board of Commissioners, Minnesota in the Civil and Indian Wars, 1861-1865, Vol. 2, (St. Paul:  Pioneer Press Company, 1893).