Q&A: What happened at the Battle of Birch Coulee?
Q&A: What happened at the Battle of Birch Coulee?
The Battle of Birch Coulee occurred on September 2 and 3, 1862, as a part of the U.S. – Dakota War.  The battle followed the attacks on Fort Ridgely and New Ulm and at this point the Dakota had fled west along with their captives.  But, having fled so hastily, Little Crow sent a party of about two hundred warriors led by Gray Bird along the Minnesota River to recover anything left behind.  During this recovery effort, the Dakota discovered a group of about 170 U.S. soldiers camped at Birch Coulee.  The soldiers, led by Captain Hiram P. Grant, were sent out as a burial party.  They chose Birch Coulee, a nearly indefensible position, as a camp because they did not believe there were any Indians within twenty miles of their position.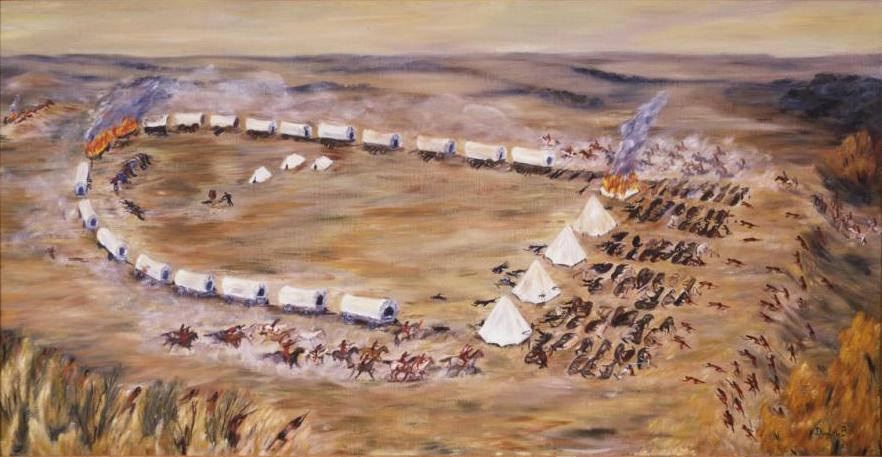 Early on the morning of September 2, the Dakota launched a surprise attack upon the sleeping and unsuspecting soldiers.  Within the first few minutes of the attack, all of the horses surrounding camp had been shot dead along with many soldiers.  The U.S. forces frantically threw up breastworks by using their dead horses and turning over wagons.  Once they managed to keep the Dakota back, the soldiers also began using their bayonets to dig trenches.
The fighting continued all day and into the night.  The U.S. soldiers were in a desperate situation being in an indefensible position with limited ammunition and supplies.  But the soldiers fought valiantly throughout the night, holding their position and firing only when necessary in order to save ammunition.  One soldier called it "a night of black despair."
Having heard the sounds of battle sixteen miles away at Fort Ridgely, Colonel Henry Hastings Sibley sent a relief party of about 175 men.  Although the relief party initially retreated, Colonel Sibley himself went out with a larger artillery party.  When the Dakota learned of the approach of the artillery, they finally retreated ending the siege on Birch Coulee.  The battle lasted approximately thirty-three hours and resulted in the death of 87 horses, 22 soldiers, and 47 wounded.  It was the only major victory for the Dakota during the U.S. – Dakota War.
Read the Official Report of the Battle by Captain Hiram P. Grant – page 215-219
Source:
Minnesota Board of Commissioners, Minnesota in the Civil and Indian Wars, 1861-1865, Vol. 2, (St. Paul:  The Pioneer Press Company, 1893).