Q&A: What caused the U.S. – Dakota War?
Q&A: What caused the U.S. – Dakota War?
On August 4, 1862, hungry Dakota Indians at the Upper Agency broke into a storehouse and carried off more than one hundred bags of flour. The army was brought in and violence nearly erupted.  Luckily, Chief Little Crow of the Mdewakanton band quickly rode to the Upper Agency and mediated the situation.  On August 15 violence nearly erupted again this time at the Lower Agency because agent Thomas Galbraith would not open the store house.  At that point Little Crow warned that, "When men are hungry they help themselves."
Little Crow was right.  At its most fundamental level poverty and starvation led to the U.S.-Dakota War of 1862.  But the reasons for these circumstances are far more complex.  There is no one person to blame such trader Andrew Myrick who made the infamous statement, "As far as I am concerned, if they are hungry let them eat grass." There is no one incident that caused the war, not even the killings in Acton on August 17.
The factors that led to the U.S.-Dakota War and its results lie within the Indian System.  Based in treaty making, the Indian System was one of removal, concentration, and assimilation.  It was met with resistance from Native peoples and it was exploited by profiteers, businessmen, and politicians.  It was a political system rooted in bureaucracy and made up of the President, his appointees, and Congress.  It was then followed up with claimants, traders, and contractors who sought to tap federal monies.  Few men had the interest of the Dakota or even the government in mind.  Those who did were powerless to change it and often faced reprisal if they tried.  The System was too big and its components too powerful.  It was, as historian David Nichols called it, a System of "institutionalized corruption."  Rhetoric seemed to be the only tool the reformers had against an immovable bureaucracy.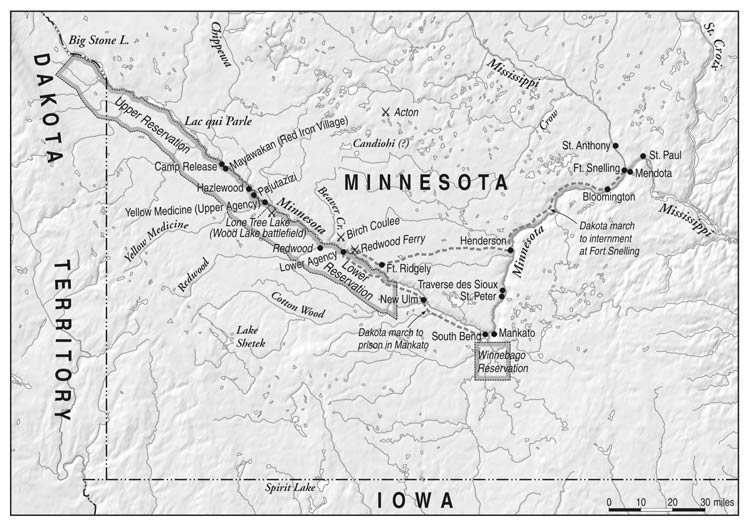 The Dakota Indians never had a chance.  The Indian System took everything from them.  Not only did the System take their land and their resources, but it stripped them of their culture and denied them of their history.  In 1862, the Dakota people of Minnesota did what they believed they had to do to survive.
Read a letter by Missionaries Thomas Williamson and Stephen Riggs to Congress pleading for a change in the system – page 44-48
Source:
David Nichols, Lincoln and the Indians:  Civil War Policy and Politics, (Columbia, Missouri:  University of Missouri Press, 1978).
Colin Mustful, A Welcome Tragedy:  Factors that Led to the U.S. – Dakota Conflict of 1862, (Colin Mustful, 2014).