Lesson 13 – Fort Snelling
Lesson 13 – Fort Snelling
In 1805, Lt. Zebulon Pike and the Dakota Indians negotiated the sale of a small portion of land at the confluence of the Mississippi and Minnesota Rivers and extending north to St. Anthony Falls.  This site became home to Fort Snelling which was built between 1820 and 1825.  The fort and its location helped the United States Government establish a strategic presence at the river junction.  It's main goals were to protect the interests of the United States in the region's fur trade and to gain the friendship and cooperation of American Indian communities.  The fort also became the center of expansion and growth in the region that would become Minnesota.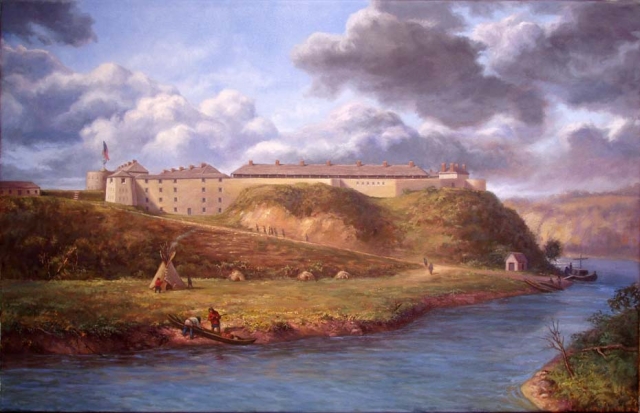 Built on a bluff overlooking the confluence of the Mississippi and Minnesota Rivers, Fort Snelling appeared quite imposing to anyone entering the region.  But in its early years Fort Snelling was extremely isolated, there being no supply post within hundreds of miles.  The soldiers at the fort were given a variety of tasks such as tending the large gardens, hauling supplies, cutting firewood, milling flour at St. Anthony Falls, and standing guard duty.  In addition to being a military garrison, Fort Snelling served as the base of the St. Peters Indian Agency.  It was home to the Indian Agent and served as a place for Indian diplomacy including the signing of the 1837 Treaty with the Sioux.
More than military garrison or Indian Agency, during Minnesota's expansionist era Fort Snelling was the center of all business, commerce, politics, and culture.  The fort was surrounded with traders, voyageurs, and American Indians alike.  It acted as the passageway to the fur country and the meeting place for nearly all things in the region.  Fort Snelling was a unique and vital post around which flourished the mixing of cultures and the growth of a new and lasting community.  However, it may also be viewed as a landmark of oppression because it ushered in an era of imperialism and held thousands of Dakota prisoner in 1862, hundreds of whom died.
Excerpt from Ceding Contempt
I then traveled upriver to old Fort Snelling, the military post at the time.  I call it "old" because it was a long running frontier outpost, having been established in 1819.  It was the first settlement of any kind west of Prairie du Chien and stood alone for many years as a desolate and lonely frontier post.

"Mr. Steele, I presume," I said to the distinguished-looking man who came out to meet me as I arrived at the landing.

"Yes," he replied positively.  "Franklin Steele, fort sutler."

He reached forward to shake my hand.  "I trust you received my letter."

"Certainly, I did," I replied with a nod.

"I'd like to introduce you to my wife, Miss Anna Barney, also of Baltimore."

A dashing young lady appeared from behind Mr. Steele and held out her hand in a manner befitting an eastern debonair.

"Charmed," I stated.

She bowed gracefully, but had nothing to say.

"I presume your travel to the fort was without incident?" insinuated Mr. Steele.

"Yes, of course," I responded.  "I have come to quite enjoy my canoe trips along the Mississippi."

"They do provide a restful spell," agreed Mr. Steele.  "Allow me to welcome you to Fort Snelling.  No trip to Minnesota would be complete without visiting the place where it all began.  But I can tell you more as we make our way to the garrison.  It is a long walk from the landing."

"Of course," I said politely, and before I knew it, two young officers ran over to collect my belongings.

"It is quite an imposing site, this old fort," noted Mr. Steele.

I had to agree with the post sutler.  Looking up from the river the garrison appeared castle-like and impenetrable.  Situated high upon a bluff at the confluence of the Mississippi and Minnesota Rivers, Fort Snelling appeared to watch over the entire region.  It was built with a light, sand colored stone with a great round tower that expressed its dominance over the surrounding area.

"It is beautiful.  I very much enjoy the varying size and colors of the stone that fit together in such unique manner to create the wall," I commented.

"Yes," agreed Ms. Barney who decided to join the conversation, "but terribly boring."

"Excuse me?" I replied.

"Oh, Anna," objected Mr. Steele.  "Do not be so rude in front of our guest."

"I don't mean to be rude," argued Anna.  "I simply mean to say that little goes on here.  Look around, all you see are Indian tepees.  And the soldiers spend all day training for what, I do not know."

"I understand," I responded sympathetically.  "Being from Baltimore myself I can see how thoroughly different this place is."

"Well, regardless of what my wife says," chided Mr. Steele, "Fort Snelling and its surrounding country has provided us with great opportunities.  One merely needs to seize them."
Read Old Fort Snelling 1819-1858 by Marcus L. Hansen
See this blog post on YouTube.
Sources:
"Fort Snelling in the Expansionist Era, 1819-1858," http://www.mnopedia.org/place/fort-snelling-expansionist-era-1819-1858
"History," Historic Fort Snelling, http://www.historicfortsnelling.org/history