Character Biography: Joseph Godfrey
Character Biography: Joseph Godfrey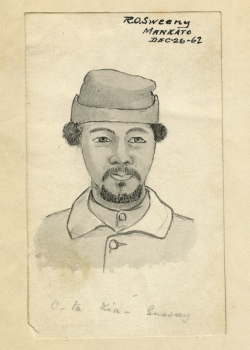 My name is Joseph Godfrey.  The Dakota call me, Otakle.  I was born into slavery at Mendota, Minnesota, around the year 1830.  My father was a French-Canadian Voyageur named Joseph Godfroi and my mother was an enslaved black woman named Courtney.  People called me a mixed-blood because my parents came from two different ethnic backgrounds.  There were many mixed-bloods living in Minnesota during my lifetime.
As a young boy I lived with my mother in the home of Alexis Bailly, a prominent trader in the region.  Life was difficult because I had to work hard every day and I received very little education.  When I was still young, my mother was granted freedom and she moved away.  Since my mother was gone, I spent much time interacting with the Dakota children who were often nearby.  But, life remained difficult and so by the time I was old enough, I ran away to seek refuge among the Dakota Indians in southern Minnesota.
The Dakota community welcomed me and life was better.  In 1857, I married the daughter of a Dakota Indian named Red Leaf.  Her name was Takanheca.  Together, my wife and I lived and worked at the Lower Sioux Agency.  But my life changed in 1862 when the war broke out.
On August 18, 1862, while I was out loading hay into a wagon, several Dakota warriors approached me and said they were killing all of the whites in the area.  They said that I should join them.  My wife and I considered fleeing, but we feared for our lives and for the life of my young son.  The Dakota said that if I did not put on the clothes of a Dakota warrior and join them on the war path, that they would kill me.  I had no choice but to change my clothes so that I looked like a Dakota warrior.
During the war, I often drove a wagon for the Dakota.  Although I had a gun and hatchet, I never used them to kill anyone.  I was a captive to the Dakota and had to do what they said.  Nonetheless, I looked like a Dakota warrior and the Dakota named me "Otakle" or "Many Kills" despite the fact that I had not killed anyone.
When the war ended I surrendered and was taken prisoner by the United States Army.  On September 28, 1862, I was put on trial before the military commission led by Henry Sibley.  Because I did not understand English very well, the trial was confusing.  I admitted to having been present at several of the battles, but I never admitted to killing anyone.  Nevertheless, the commissioners found me guilty and sentenced me to death by hanging.  I was very afraid.
Over the next several weeks, I was called as witness many times and frequently testified against the Dakota Indians on trial.  I did not want to do this, but I had a good memory and I could tell when people were lying.  The military commissioners appreciated my assistance and recommended that my sentence be reduced.  Thankfully, President Lincoln agreed and he reduced my sentence from execution to ten years imprisonment.
After the trials I was sent to Camp McClellan in Davenport, Iowa, along with about 300 Dakota Indians who had also been imprisoned.  I spent three years at Camp McClellan where life was tough and many died of sickness or starvation.  I was pardoned in 1866 and I decided to settle at the Santee Reservation in Nebraska.  I lived as a farmer, I remarried twice and I had several more children.  I spent the rest of my life at this reservation and died in 1909.
Source:  Bachman, Walt.  Northern Slave, Black Dakota:  The Life and Times of Joseph Godfrey.  Bloomington, MN:  Pond Dakota Press, 2013. 
Sketch of Joseph Godfrey by Robert O. Sweeny, MNHS Collections.