A State of Panic: How the Citizens of Wisconsin Responded to the U.S. – Dakota War of 1862
A State of Panic: How the Citizens of Wisconsin Responded to the U.S. – Dakota War of 1862
"Given a quantity of gasoline, it requires but the application of a match to produce an explosion; the match taken by itself would be harmless. In the outbreak we are studying the abnormal state of the public mind supplied the gasoline; the application of some report of Indian outrage, however improbable or foolish it might be in itself, produced the panic."

M.M. Quaife, "The Panic of 1862 in Wisconsin"
While the U.S. – Dakota War wreaked havoc across the state of Minnesota in August and September of 1862, causing thousands to flee their homes in search of safety, its effects were not limited to Minnesota alone. Just to the east, in Wisconsin, a state where many Minnesotans had migrated from, news of the war caused a similar response. Though the threats of danger in Wisconsin were unfounded, exaggerated, and often baseless, communities throughout the state reacted with panic and fear, fleeing their homes and seeking refuge. And though the hysteria, looking back, seems quite unreasonable, the conditions for a sudden escalation of an emotionally driven outburst were always there—not much unlike what we see today in the streets of Minneapolis and St. Paul.
On April 15, 1861, following the bombardment and surrender of Fort Sumter, President Abraham Lincoln called upon 75,000 volunteers to serve in the Union army in defense of what some would call Southern aggression. This was the beginning of the American Civil War. More calls for troops followed and by July of 1861, Congress authorized 500,000 additional volunteers.
Wisconsin answered the call for volunteers sending several regiments. Though it was at the time still considered a frontier state with a meager population of eight hundred thousand, thirty thousand young men were sent to the front. This, of course, created a sense of tension among Wisconsinites as they read country newspapers that carried weekly long and ever-growing lists of casualties. By 1862, when volunteering slowed, conscription resulted in draft riots in some Wisconsin communities. In Milwaukee, troops had to be called in to preserve the peace. Then, on April 19, 1862, the governor of Wisconsin, Louis P. Harvey, drowned in the Tennessee River while bringing medical supplies to the troops injured in the Battle of Shiloh.
Thus, when a contingent of Dakota soldiers attacked and killed several hundred citizens living in south and southwestern Minnesota, sparking the U.S. – Dakota War of 1862, Wisconsinites, upon hearing the news, released their growing apprehension in a show of community by community statewide panic. Many believed that Native populations in the region were after their destruction and that a massacre was imminent. In St. Croix Falls and surrounding counties it was reported that in some of the towns midnight alarms had occurred, with the people rushing from their beds and houses in fear. In Menomonie, for four days beginning August 29, a constant stream of men, women, and children rushed into the city, all fully convinced that the Native people were close behind them murdering every white person they could. In eastern counties, citizens reacted to false reports, such as the burning of Cedarburg, by flooding into rendezvous points like Port Washington, Waukesha, and Milwaukee.
In response to the panic, Governor Edward Salomon organized a committee of public safety that issued Public Order No. 1 on August 31. The order called upon every male inhabitant between the ages of 18 and 60, to take turns as a part of a nightly guard. It also asked that all families sleep within certain town limits for protection while the order also forbade the sale of alcohol or ammunition to any Native person. After the Public Order was issued, Governor Salomon reached out to Secretary of War Edwin Stanton declaring, "Appeals are daily made to me for arms and ammunition. Families are leaving their homes for fear of the wandering bands." He also recalled Captain Maurice Samuel of the First Wisconsin Infantry from Kentucky to quell any potential violence.
At the time of the U.S. – Dakota War, there were about 9,000 Native peoples living in the state of Wisconsin, most of whom were confined to reservations. The Native peoples had shown themselves to be peaceful and were quite loyal to the government. Following Lincoln's call for volunteers, many Natives in Wisconsin offered their services in the war against the South. Though authorities would not allow full companies of Native soldiers, the Natives did not fear conscription and about five or six hundred, out of nine thousand, served for the Union Army.
Whatever fear the whites had of the Natives in Wisconsin was based on prejudice or false reports. For instance, on September 8, the La Crosse Weekly Democrat reported that the Lewis Valley settlement had been burned by Indians. However, no such destruction took place and no one could actually report having seen a Native inhabitant. The editor of the Weekly Democrat estimated that there wasn't a Native within seventy-five miles of La Crosse, and commented on the excitement writing, "every bush has an Indian behind it, every moan of the wind is an Indian signal, the hoot of the owl is nothing but the infuriated whoop of an army of savages."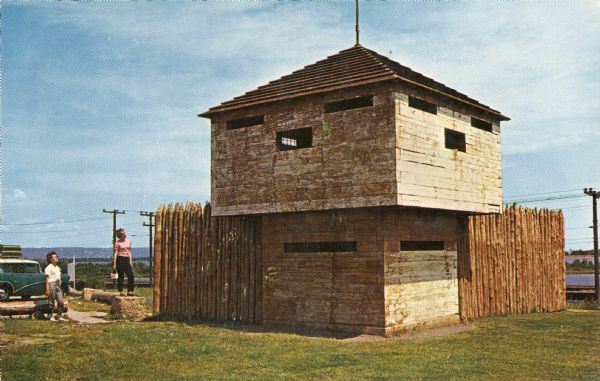 Whole settlements were evacuated, west to east across the state, but as time passed, people realized their fears were exaggerated and then began returning to their homes. In Wisconsin it became known as the Indian Scare of 1862. Ultimately, there was no attack, no destruction, and no reason for panic. But what happened there was not unprecedented nor even uncommon. When conditions are ripe, and a spark is provided, emotion, rather than reason, motivates action. Things have changed a lot since 1862, when Minnesota went through one of its most challenging epochs, but people have not. We all want and need safety—for ourselves and for our families. We all want hope for the future. But when that safety and hope is threatened over an extended period of time, there is no stopping the reaction that follows.
Sources:
M. M. Quaife, "The Panic of 1862 in Wisconsin", The Wisconsin Magazine of History, Vol. 4, No. 2 (Dec., 1920), pp. 166-195
Wisconsin Historical Society. Wisconsin Local History & Biography Articles; Sheboygan Daily Press; Sheyboygan, WI; July 1, 1932; viewed online at https://www.wisconsinhistory.org on May 29, 2020.
"President Lincolin's 75,000 Volunteers", Wikipedia, Last Updated April 8, 2020, accessed on May 30, 2020, https://en.wikipedia.org/wiki/President_Lincoln%27s_75,000_volunteers.
Colin Mustful is a Minnesota author and historian with a unique story-telling style that tells History Through Fiction. His work focuses on Minnesota and surrounding regions during the complex transitional period as land was transferred from Native peoples to American hands. Mustful strives to create compelling stories about the real-life people and events of a tumultuous and forgotten past.