"The responsibilities of my position are so great that I am deprived of necessary rest.  I can hardly sleep at all . . . It is hard indeed while we are fighting and doing our best, to have a set of ninnies and poltroons abusing us at home."  – Sibley to his wife, Sept. 5, 1862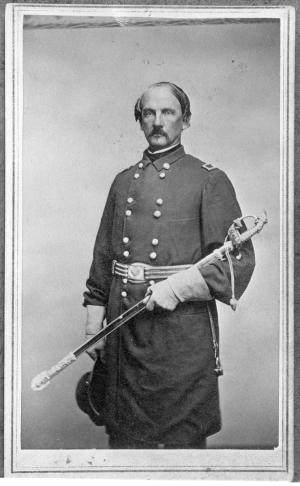 Colonel Henry Hastings Sibley, arrived at St. Peter along with his troops on August 22, the same day as the second attack on Fort Ridgely.  He did not arrive at Fort Ridgely until August 27, and immediately received scrutiny for the slowness of his campaign.  This slowness and scrutiny continued over the next several weeks.  Some accused Sibley of having friends among the Indians who they claimed he did not want to injure.  One newspaper called him a "snail" who "falls back on his authority and assumed dignity, and refuses to march."  Several people even called for his removal.  Sibley was disheartened and even offered his resignation to Governor Ramsey.  In a letter to his wife Sibley wrote, "Well, let them come and fight these Indians themselves and they will have something to do besides grumbling."
But, Colonel Sibley had reasons for his delay and he was calculated in his movements.  To begin, he had raw recruits and an even rawer militia.  His men were undisciplined and had a lack of proper supplies.  Sibley therefore concluded that it was impracticable to take the field against a numerous, mounted, and armed foe.  Also, knowing that Little Crow was reluctant to commence war, Sibley first sought to counsel with the Dakota chief believing he might be willing to surrender.  Sibley did this through a correspondence with Little Crow that lasted from September 2 to September 12.  Though Little Crow did not surrender, Sibley learned that there was dissension among the Dakota.  Sibley also considered the safety of the captives, whom he feared would be killed if he moved too quickly on the Dakota who commenced war.
Meanwhile, Sibley's troops were being drilled daily.  They had little to no military experience and supplies indispensable for the campaign were delayed.  Furthermore, since Sibley lacked an experienced staff and he was obliged to attend to a multitude of administrative details, it wore him out.  Eventually, Sibley received help when 270 enlisted men from the Third Minnesota Infantry arrived on September 13.  Sibley was then able to put trained officers in command and then move forward on the Dakota, ending the war at the Battle of Wood Lake on September 23.
Read the correspondence between Sibley and Little Crow
Source:
William Watts Folwell, A History of Minnesota, Vol. 2, (St. Paul:  Minnesota Historical Society, 1924).